Turn in your child's entry to the office of their school!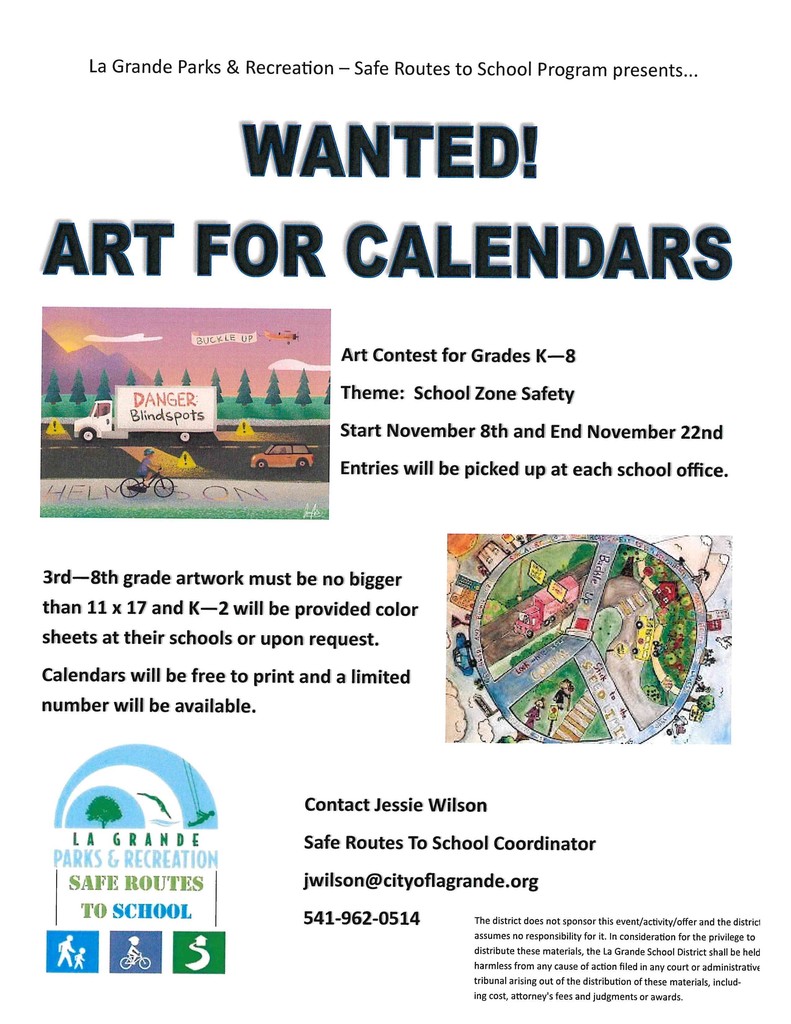 At approximately 8:30 am on Monday, November 1, Central Elementary became aware of a potential gas leak and evacuated all students to La Grande High School. After an investigation by Avista utilities and with the support of the La Grande Fire Department, it was determined there was not a gas leak. The district will be shutting down the HVAC unit causing the smell and repair parts are on their way. The weather inversion is not allowing the air to dissipate as it normally does. The district has a natural gas monitor in place and will be monitoring for gas leaks out of an abundance of caution. Students began returning to the building at 10:00 am.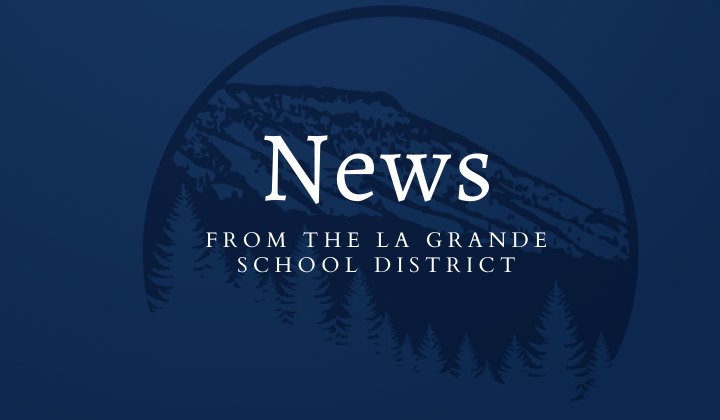 Cook Memorial Library provides free literacy tutoring Tuesday - Thursday weekly from 1:45 - 4:30pm. Here is the Application for Free Tutoring and Scheduled Access to Learning Stations:
https://forms.gle/ujzefuLCBq1KnKPN9
During open hours, all ages are welcome, and Literacy Center services are free of charge. Please drop in to check out our collection of available educational games and materials, and use the Literacy Center's PCs and AWE computer learning stations. Students may stay longer than their scheduled hour. Learning packets are sent home with students for additional learning and practice. Tutors will go over materials to make sure that your student understands. Please feel free to review work on the packets with your student, as repeating helps with comprehension, and students begin using self-correcting techniques while rereading. Students who complete their packets receive prizes during their subsequent tutoring sessions! If you have questions, contact Myra via email:
mbritschgi@cookmemoriallibrary.org
, or phone: 541-962-1339.


We look forward to seeing students on Monday!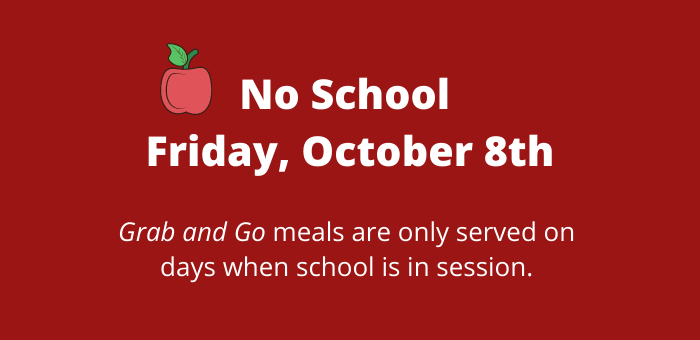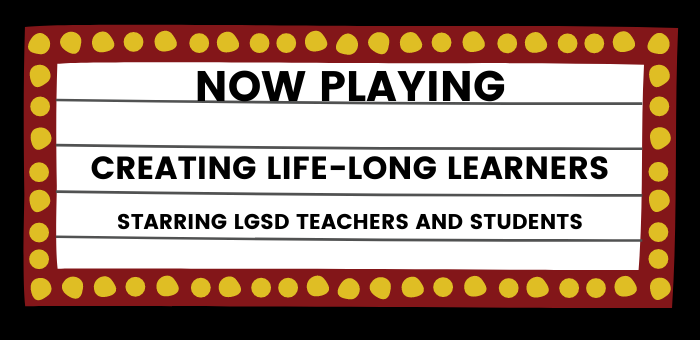 Click here to find out more information about upcoming "Conscious Discipline for Families" virtual courses:
https://5il.co/zrlq

Growing Meaningful Connections with Your Child is tomorrow night, Tuesday, September 28th, at 6:30 pm - virtually or at LHS. See this flyer for more details!
https://5il.co/ziy6

Pickup: K-2 students line up in front of the building and are picked up at their Cougar paw if parents are walking up. If you are in the pickup line, please continue to pull forward to fill any gaps and make sure your "yellow card" is in the front window with the student's first name and the teacher's name. This helps the staff to radio for each student. If you have siblings, the older siblings will line up with the youngest sibling. 3-5 students are picked up on 2nd Ave. Parents are asked to pull up to the curb for students to load safely. 3rd grade is located closest to the stop sign of H and 2nd. 4th grade is located in the middle of the block. 5th grade is located closest to the intersection of I and 2nd. Illness: If your child is ill, it would be best to call the office before sending them to school. The secretaries will ask you a couple of questions to determine if it is safe for your child to come to school. We will also work with the school nurses in some situations. This will help us to keep all students in school this year. Thank you all for giving us the opportunity to educate your children! We will continue to navigate the COVID pandemic as best we can and communicate the information out to you. If you have any questions, please give us a call at 541-663-3500. With appreciation, Mrs. West

Central Families, September 7, 2021 Central School hours are 8:10-2:30 Monday, Tuesday, Thursday, and Friday and 9:10-2:30 on Wednesdays. Our office is open daily from 7:30-3:30. Student drop off begins at 7:55 am and students are allowed to enter the building at 8:00 to go to their classroom. Breakfast students may enter the cafeteria side door for Breakfast at 7:55 am. Please remember that Breakfast and Lunch are free for all students. Masks are required indoors for all staff and students. While outside, staff and students are not required to wear masks as directed by the ODE and OHA. We have both small and large disposable masks for students as well as small cloth masks available. Please make sure if your student is wearing a cloth face mask to wash it daily. Drop-off: If you are dropping off your student at the curb, please continue to pull forward behind the vehicle in front of you. The staff can help the student(s) out of your vehicle if necessary. Parents should stay in the vehicle in the drop off area. If you want to walk up with your student, please park in the parking lot or along the road. Please make sure to use the crosswalk and not cut in between the vehicles. We ask that everyone be patient so that all students can make it to school safely.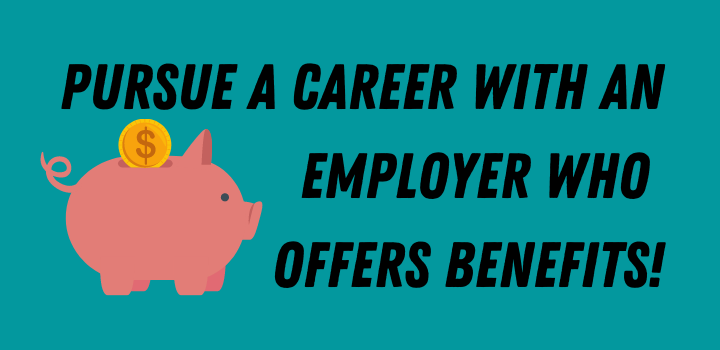 Central Elementary-Back to School Information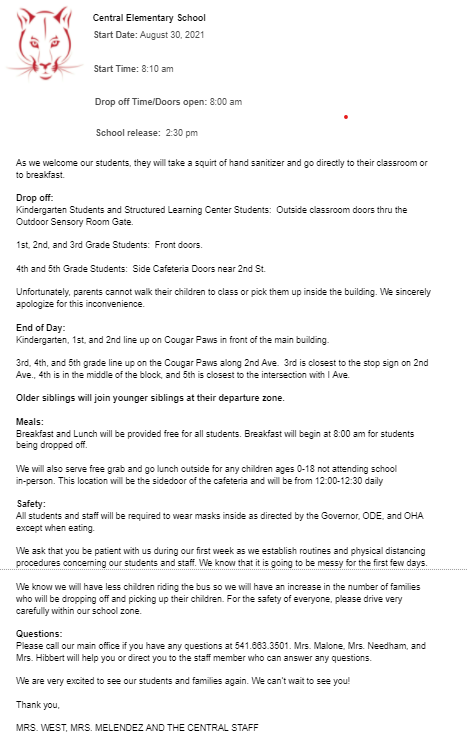 Conscious Discipline for Families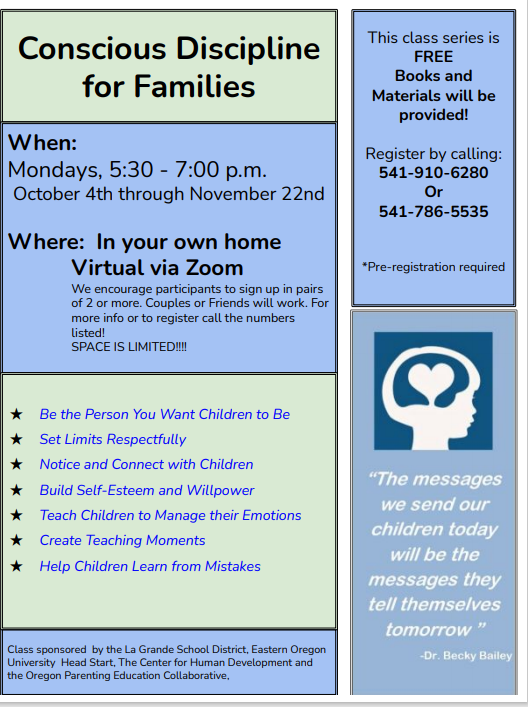 Join us on LGSD.tv or our La Grande School District Facebook page.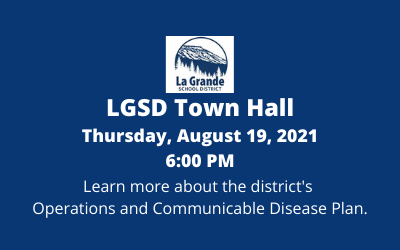 Grande Ronde Hospital and Clinics (GRH) will host a virtual public Town Hall on Wednesday, August 18, 2021 from 6 PM to 7 PM to address critical concerns of hospital capacity. The Town Hall will be live streamed at
www.EOalive.TV
,
www.fb.com/eoalivetv
and
www.fb.com/grh01
. There will be an opportunity for the public to ask questions at the end. Please plan to join us for this community message.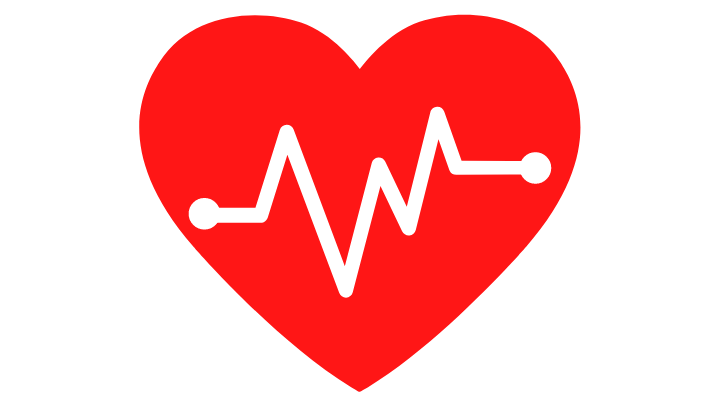 This school year, the La Grande School District will to continue to provide Grab N Go meals at Island City Elementary and Central Elementary from 12:00-12:30 each school day. There will be both breakfast and lunch provided in each bag. Meals are free for children 0-18 years of age. Also, all students attending school this year will receive both breakfast and lunch free of charge. They will need to enter their ID Number just as they have in the past, but the meal is free.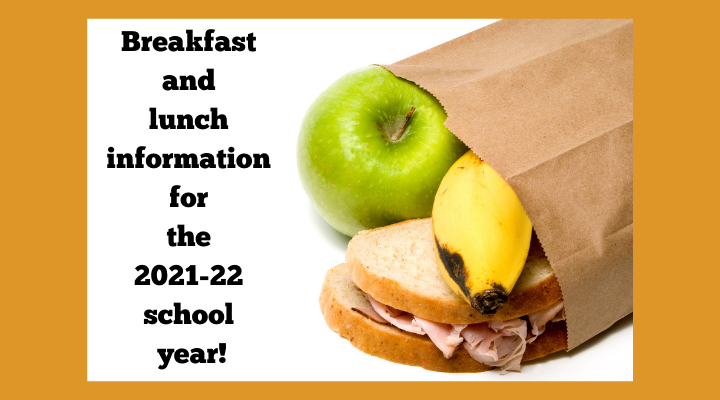 This fall, LGSD students will attend school full-time, five days per week. The Oregon Department of Education is now revising guidance to support K-12 schools in safely delivering in-person instruction. That guidance, Ready Schools, Safe Learners, is expected on or before July 24th. LGSD will work with a committee of parents, community members, and staff to update our safety plans and those will be released in early August.

Governor Brown has signed an order, lifting all remaining COVID-19 restrictions. This allows the La Grande School District to no longer require masks during our indoor and outdoor summer programs. The Oregon Health Authority recommends unvaccinated individuals and other vulnerable persons continue to wear masks and practice other health and safety measure to stay safe from COVID-19.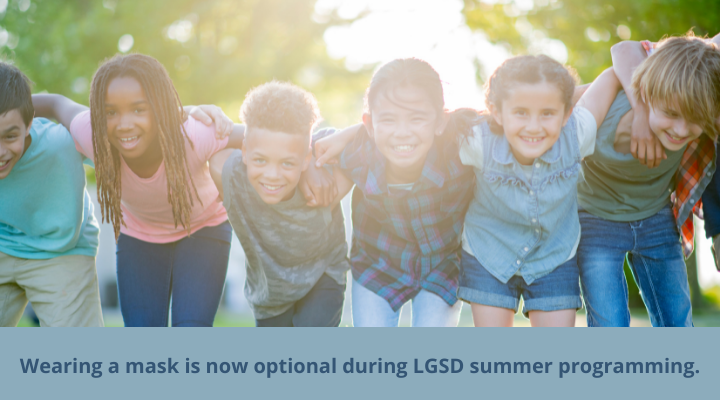 It's time to picnic! Come by your elementary school on Wednesday, June 30th from 12:15-1:15 to read, relax and listen to a great book from a very special Mystery Guest! Free books and snacks for all elementary students attending. Students need to attend with an adult. Remember, this its the last Literacy Picnic for June. There will not be picnics in July. We will return with Literacy Picnics the first three weeks in August.