Diggin' In With FoodCorps Fin - February 19, 2021
Another snowy Friday!
I'm feeling very grateful for that magical substance that falls from the sky these days, that makes our valley so beautiful. Watching recess has even made me want to roll around in it! A big thanks to our grounds crew for shoveling and plowing our school to keep us going.
Whether it's a fresh white blanket of snow, or the smell of peppermint, or maybe even the feel of a strong warm wind, I know there are many senses that remind us of home. This week in Third grade, I asked our my students to think of foods that reminded them of home or the place they came from, their family and ancestors, and even a food that represented who they are.. Together, we drew meals of those special foods. In this way we learned about "Soul Food"; food that nourishes our hearts and spirits as well as our bodies. It was a wonderful way to learn about each other through the food we eat.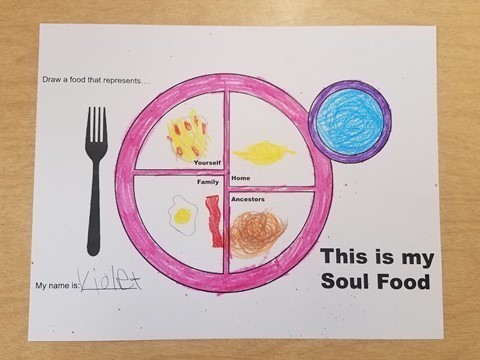 For example, I learned that one of our student's family came from Russia, where they were too poor to buy meat. So instead, they ate lettuce sandwiches (bread with lettuce in between). "They're actually pretty good" they told me. Another student told us that their family came from Wisconsin and from Maine, so they drew cheese and lobster on their plate. Another student shared that they ate dal and roti at home because their parents came from India.
This was a good opportunity to learn more about the food traditions of another culture in America: in honor of Black History month, we learned some of stories behind Black American cultural foods, what we also call "Soul Food." We learned about rice, okra, pork, and greens, and how these foods originated in the deep south and had origins in the slave trade. Their stories give the flavor of meaning to the meal and bring those who eat it closer together, through shared experience. If you're interested, you can learn a little more about some of these ingredients and their stories at The Humble History of Soul Food.
In the kitchen this week, Cougar Cooks dove into the wonderful world a fruit and made one of the simplest, most versatile and tastiest fruit recipes I know: the Any-Fruit Smoothie! With equal parts fruit (of any kind) and milk (or yogurt/milk alternative), this recipe is as easy as 1-2-3: Combine in the blender, whip it up, and slurp it down! Our chefs brought everything from pears and bananas, to blueberries and strawberries, to spinach and carrots! They were very adventurous and even sliced up a tricky raw mango! Nice work!
As always, if your 4th grader would like to join us next Wednesday evening, just RSVP by emailing Finley at finley.tevlin@foodcorps.org by Tuesday at 3pm so he can provide ingredients for everyone. Next week's theme will be plant-based proteins, so sign up to see what we'll make!
Something I've been doing at home to add some green to my life, is growing sprouts in a jar! This is a super simple method (that's a fabulous way to get kids excited about growing), that can make delicious greens in just a matter of days. All you'll need is a glass jar, a small piece of mesh, some dry grains (that you probably have at home already) and water from the sink!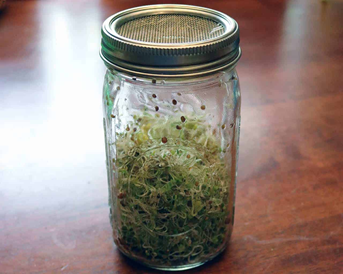 This article explains it really well if you want to give it a try: https://www.eatingwell.com/syndication/ordering-garden-seeds/
Happy growing, and stay well folks,
Finley