Happy Friday y'all!
And with that, we conclude the second quarter of our school year, which, if you've gotten your fractions down, means we're halfway through the year! I was stunned to realize that today. What a school year it's been! Still, I know there's great things on the horizon for this Spring and I'm excited to start next week with that in mind.
Speaking of good things on the horizon, CHD has started offering vaccines to K12 educators, and I have made my appointment for this afternoon (and I'm feeling very lucky)! If you are a teacher reading this, you can find out more and make your appointment here at the Center for Human Development.
Along those lines, last week in 3rd grade we focused on issues in our school around wellness that students felt were important and how we could change them. This week, we took our time together to work on those issues. Aptly, Ms. Linn's class pointed out that COVID-19 was the most important wellness issue at our school. I completely agreed. We brainstormed together on ways to address it, and they decided that while they knew how to be safe in school, it was important to get the community to follow the best safety practices too. So we wrote this letter together to our school community. We hope you can give it a read:
Dear Central School Community,
We, the students in Ms. Linn's 3rd grade know that COVID is very real: we have noticed that COVID cases continue to rise in our community, and people continue to get sick or even die. Our county is still in extreme risk. Kids like us try to learn, but if we get sick, we can't go to school. But, we know that if we all do our part, we can make change in our community so that it is a safe community, and help the country too. We need you to stay 6 feet apart, wear your mask, and stay home if you feel sick, limit who you see and spend time with, just like we do.
Thank you for reading our important message. Please do your part.
Signed, Ms. Linn's 3rd grade
Other third grade classes focused on other important visions for our school, including anti-bullying, school beautification, and more physical activity at school. Here's just a few of the signs we made in class to post around our school: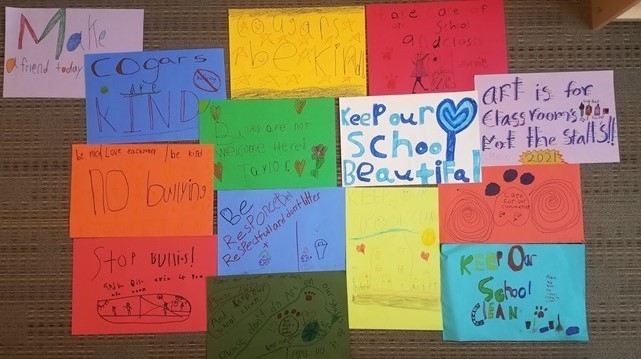 It was wonderful to help these kids make real change in our school.
With Cougar Cooks this week, we learned about the 5 food groups (Fruits, vegetables, protein, grains, and dairy) and made a quesadilla that included all 5 parts. We sent home some whole wheat tortillas, and our fabulous chefs brought their choice of cheese, vegetable, protein, fruit, and dairy. For me, I used pepper jack cheese, yellow bell peppers, refried beans, salsa and sour cream. One of our students said this one was the best recipe we've made yet!
Next week, on the passionate recommendation of our chefs, we'll be cooking mini pizzas! These pizzas will have a no-yeast crust, so the whole process takes just 20 minutes.
If your student is in 4th grade, join us at 5pm next Wednesday to learn more about grains, and make this pizza from the comfort of your own kitchen!
That's all for now, take care all!
Finley