"Diggin' In" with FoodCorps Fin : January 22, 2021
Congrats Central!
We've made it through another week of learning together here at Central. And what a week it's been!
We have a new President, and it was poignant and powerful for me to watch the events unfold from students' perspective. The students that I watched inauguration speeches and noted how often the word 'unity' was used. We had a deep conversation about why that theme was so central to the day. It is always so remarkable when kids can state something so clearly that is often difficult for adults to say: "It's important to listen to each other and work together so that everyone can be happy." Well said, kids.
After listening to Jennifer Lopez's version of "This Land is Your Land" we talked about why we thought they chose that song, and I spoke with a student whose grandparents came from India and how he thought the song was a good one because it talks about how beautiful America is and how we all have an opportunity to explore it.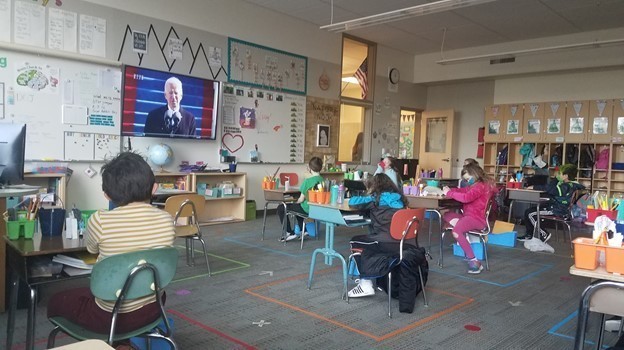 Taking Monday off from school to celebrate and remember the legacy of Dr. Martin Luther King Jr, we jumped into lessons in the 3rd grade this week on the theme of "Agents of Change". While our students had learned a lot about the deeds of great civil rights leaders such as MLK, few of them knew about other activists who have made change in the food system. So, we took time in class to read a story about Cesar Chavez, who organized the National Farm Workers Association (later, the United Farm Workers) and signed the first contract for farm workers in American history after the Delano grape strike of 1965.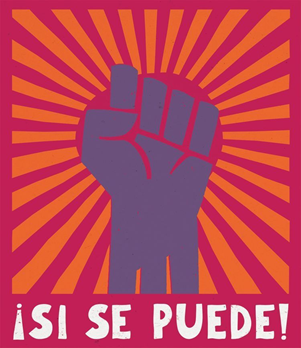 It was an impactful story and students were energized when we learned the rallying call of the UFW: Si Se Puede! (Yes, We Can!). Inspired by the lesson, we took some time to think about our own community at school and what issues they see and would like to change. After problem solving together, each class decided on an issue they felt was most important, and we'll be working together next week to take some action steps to make that change real, by making signs, writing petitions and open letters, and making a plan for future steps. Look out, the next generation of changemakers is coming!
With Cougar Cooks this week, we made a campfire-favorite: Baked Banana Boats. These delicious fruits can be packed with any number of sweet, melty and crunchy toppings to an excellent treat that can be made by the fire, on the grill or in the oven. I was very impressed with the variety (and girth) of these "boats" when we were finished. One student admitted before we ended the call that they had already eaten the whole thing… I'd call that a success!
Next Wednesday night at 5pm, we'll be making veggie quesadillas which includes all 5 food groups. We'll once again be joined by Jamie Cox of OSU Extension's SNAP Education team for some awesome kitchen tips and nutrition knowledge. If your 4th grader wants to join, simply email Finley at finley.tevlin@foodcorps.org before Wednesday!
Last but not least, we might still be in the middle of Winter, but my mind is on Spring gardening already. We are attempting to collect garden tools that will allow us to get more students involved with building the Outdoor Sensory Classroom and garden.
If you have any of the following items that you would like to donate, we would gratefully accept:
Shovels (all shapes and sizes)

Wheelbarrow

Hoes

Hard rakes

Clippers

A TOOLSHED!
As always, just reach out to Finley if you think you can help. And thank you!!
Stay well folks,
Finley