"Diggin' In" with FoodCorps Fin : January 15th, 2021
Happy Friday Central!
It's been a full week with all of our students back in the classroom, and it feels like normal already. There was great excitement as we greeted them into the halls again on Monday morning, and it's been so encouraging to see our students-- even the littlest ones-- following best safety practices. If they can do it, we surely can.
If you saw last week's article, you may have heard about the Bake For Good program which we were planning for this week. I can happily report back that it was a great success. Every 4th grader here received a home-baking kit and recipe booklet, and 10 students joined us virtually on Wednesday night to prepare our first loaves of bread together. In one hour, we woke up our yeast, prepared our dough with two kinds of flour, and got our hands dirty kneading it to the perfect consistency, all while learning about what makes a whole grain, and what gluten does for bread. I left our students with their dough rising and some tips for shaping and baking their bread when it was ready. Just look what these kids were able to do: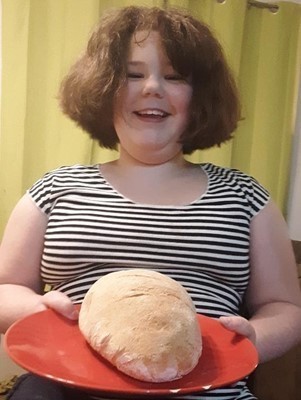 (The braided and scored loaves were baked by Brycelyn St. Clair, and that's Gracie Turnboo proudly displaying her loaf-- both regular attendees to Cougar Cooks and already showing great strides in their culinary skills!)
The recipe included in the baking kit also showed how to use the dough for other things, including cinnamon rolls and pizza dough. I used half of the dough I made for this loaded veggie pizza!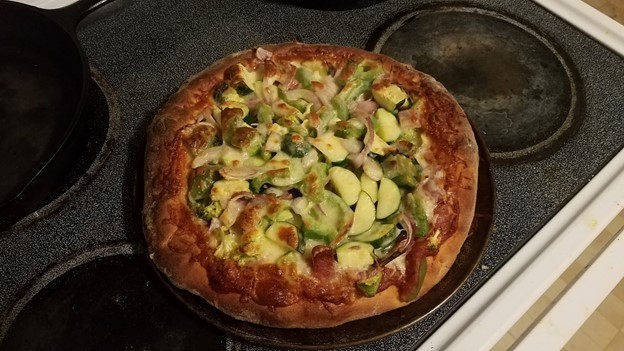 Every student was able to bake two loaves with the dough we made, one of which we asked them to share; with a friend, family, neighbor, or anyone else. It was really wonderful to hear who they planned to share with. It really felt like Baking For Good!
(If you weren't able to participate and still want to, the King Arthur Baking Company's webpage for Bake For Good has all the information you need to bake these loaves and a wonderful instructional video that walks you through the whole thing: https://www.kingarthurbaking.com/about/bakeforgood)
And the fun doesn't stop there! Next week Cougar Cooks will be making some amazing and customizable Baked Banana Boats and learning while learning some important kitchen safety from Jamie Cox, from OSU Extension SNAP Education. RSVP by emailing Finley (finley.tevlin@foodcorps.org) and Join us next Wednesday from 5-6pm!
I asked 3rd graders this week: "what do plants eat?" Some said, air, some said sun, some said dirt and water-- they all had pieces of it. So, I gave them pieces of the photosynthesis puzzle and had them race against the clock to put it in the correct order themselves, which they did with ferocity. Then, we took the process of photosynthesis and brought it to life with a play called "A Plant's Breakfast". Volunteers acted out each part with great gusto (see an excerpt below):
Plant: [shouts toward sky] Yoo-hoo, Atmosphere. I can't see you, but I know you're out there.
Atmosphere: Morning, Plant. I'm here. Same as usual? You need some CO2 molecules?
Plant: Yes, please!
[Atmosphere gives Plant a handful of CO2 molecules.]
Plant: Thank you, Atmosphere. Remember, I'll have some leftovers to give you soon.
Plant: [looks down at ground] One more ingredient for my breakfast. Hi, Water. Are you down there? I think I saw you raining from the sky yesterday.
Water: Hi Plant. Yup, I'm just resting here in the cool ground. Feel free to drink me up through your roots.
Plant: Thanks so much. Gulp. Gulp. Gulp. I'm going to send this water through my stems into my leaves where the cooking magic happens!
What fun!
Following MLK day next week, we'll be focusing on another great American hero who made lasting change in the food system: Cesar Chavez. We'll be learning about his legacy and then working together to problem solve issues around food and health in our school community. I'm very excited to hear their perspective and feed off of that enthusiasm. So often we forget the clarity of sight and pureness of intention in our children that can be such a guiding light. They are the future after all.
I encourage you all to take this coming Monday not as a day off but a day on: honor the great sacrifices made by Dr. Martin Luther King Jr. and everyone in the first Civil Rights movement by serving your community in whatever way you can. Serving our community is even more important during a crisis, but if you're having trouble thinking of a way to serve your community in a COVID safe way, check out these ideas from Youth Service America: https://leadasap.ysa.org/ideas/#rating=4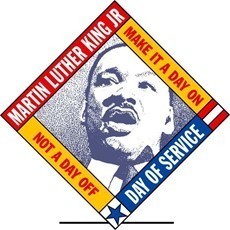 With you in health and solidarity,
Mr. Finley